Much thanks to the Japanese's decision for making their country more tourism-oriented, Japan has finally relaxed their visa policies for us Filipinos in the last couple of years. With that being said, there's no better time to go to Japan than now! If you carry a Philippine passport and are looking to visit the Land of the Rising Sun, then here's my first timer's guide on how to get a Japan tourist visa for Filipinos.
"I can just go on the Japanese embassy website and look it up there, why would I need to read your guide?", you may ask.
WELL. The following is an account of my personal experience getting a tourist visa for Japan.
While I still recommend giving Google a good sweep for other people's experiences on the matter, this should help those who are kinda, sorta in the same situation as I am.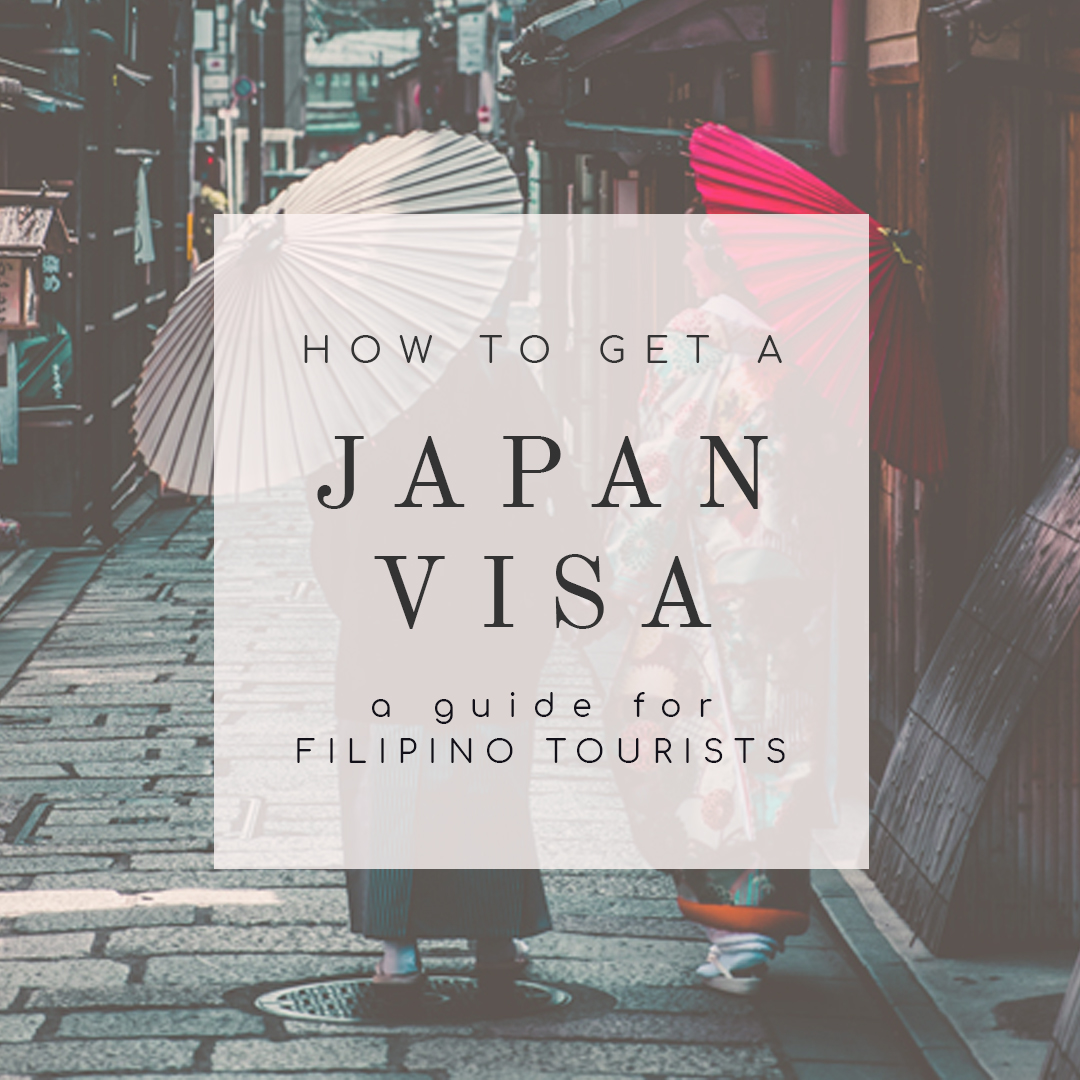 ♥ Some things I think you should know, as of this writing:
I am technically a freelancer. I have no Certificate of Employment, but I have an ITR.
My birth certificate was registered late. Hence, supporting documents needed to be submitted.
I applied without a guarantor. Meaning, I will shoulder all of the expenses of this trip.
I am unmarried. I applied alone.
To sum it all up, I am basically an example of someone who's perfectly capable of going to Japan without ever returning. A single freelance artist in her prime years, perhaps with absolutely nothing to lose if she ever decided to become a TNT* in Japan.
*TNT – stands for "tago ng tago", a Filipino term for someone who is an illegal alien
Before and after I applied, all I could think of was the possibility of them profiling me as such and thus denying me a permit to enter. It's not very uncommon after all, sadly, for Filipinos.
I was pretty paranoid. That's why I made sure everything was in order before I applied. Everything should be legit AF and I needed to make sure the embassy saw that.
First things first. This is a how-to article for Filipinos residing in the Philippines who want to get a visa for tourism in Japan.
So then if you…
don't carry a Philippine passport
live outside the Philippines
are applying for a visa other than for the purpose of tourism
are applying to work or live in Japan
…then I'm afraid this guide isn't for you. With that out of the way, let's get started. Now, make sure you know why you are traveling to Japan.
Steps to getting your Japan tourist visa:
1. Choose your visa type.
Yes, that one's a no-brainer. But for your information, a screencap I took from the Japanese embassy website shows that there are several types of visa. SEVERAL. Every possible purpose for travel has a corresponding visa type. I mean, even the visa for "visiting friends or distant relatives" is different from the visa for "visiting relatives".
Because this guide is targeted towards Filipino tourists, we'll go with the visa type #1 – visa for Tourism.
2. Pick an accredited travel agency.
Before we move on to gathering the required documents, let's find you a travel agent first – just so we have that one out of the way. Also, this would be good to have in case you get lost somewhere along the way in your application. If you need help or further clarifications about something not covered in this guide, you would have a number to call.
With the exception of special cases, the Japanese embassy does not accept visa applications directly. You must course it through one of the several accredited travel agencies listed on their website. Usually, they don't do interviews and all you have to do is submit the required documents to your chosen agency.
When your documents are all complete and good to go, you will leave them with the agency who in turn will pass it on to the embassy. You will be notified by the agent when your passport is ready for pick-up. Don't ask the agency over the phone if you got approved or denied because they'll never tell you anyway. You should go get your passport yourself or have a representative pick it up for you (with your valid ID and an authorization letter, of course). You can also have your passport shipped back to you.
The travel agency has no say whatsover in the decision-making process. Your being approved or otherwise is at the sole discretion of the Japanese embassy. So if you're thinking… "I might have a better chance of getting approved if I apply with Agent X than Agent Y…", then, gurrrl, you've never been more wrong.
I didn't spend too much time researching which travel agency the general public favored the most. I just went with Reli Tours and Travel simply because their SM Megamall branch was the most convenient for me, location-wise. I guess all that matters is that they're one of the accredited agencies listed by the embassy.
3. Gather the required documents.
When I went to Reli Tours, they handed me a checklist of the documents to be submitted with your application for a tourist visa. The list below is a word-for-word transcription of the actual list they gave me.
---
Philippine Passport

broken lamination of the photo part is not accepted
must have signature and have at least 2 blank pages

Visa Application Form
Photo 2×2 – white background / write your name & birthday behind picture
Birth Certificate

must be from PSA main office / Serbilis Outlet Center issued within one year

if birth certificate from PSA is unreadable, or if there is no record in PSA, in addition to "Certificate of non-Record" from PSA Headquarter, submit:

Birth Certificate from LOCAL CIVIL REGISTRAR

if birth certificate from PSA "Late Registration", submit:

Baptismal Certificate
School Record (Form 137)
School Yearbook (if applicable)

please indicate complete address and land line (Telephone, if applicable) of the church in the baptismal certificate, and of the school in school record)

Marriage Certificate (if married)

must be from PSA main office / Serbilis Outlet Center issues within one year
in case of non-record, you must

submit certiciate of non-record together with the one from LOCAL CIVIL REGISTRAR

Daily Schedule in Japan [Taizai Yoteihyo]
If applicant will shoulder part or all of his / her travel expenses:
Bank certificate (must be issued within 3 months)
Income Tax Return (Form 2316) clear photo copy (latest)
If guarantor who lives in the Philippines will shoulder part or all of the applicant's travel expenses:
Guarantee Letter
Proof of Relationship between Applicant & Guarantor (e.g. birth certificates, etc.)
Bank certificate (must be issues within 3 months)
Income Tax Return (Form 2316) clear photo copy (latest)
If applicant is not Philippines Nationality
Alien Certificate of Registration (ACR)

foreign residents with long-term or permanent status in the Philippines applying for a visa must submit, in addition to the above requirements (except birth & marriage certificates), a copy of their Alien Certificate of Registration (ACR) issued by the Philippines Government
---
Alternatively, here is the official list of requirements from the Japanese embassy website. It's essentially the same as the one I've transcripted above. I suggest printing out a copy of the checklist to keep track of the documents you already have on you and the ones you still need to obtain.
Upon submission of your documents, an attendant at the agency will go through this checklist with you to make sure you have everything complete. If they find anything missing, they will not forward your application.
Let's go through all of the documents to make sure everything is as it should be.
Passport
Make sure your it won't be expiring anytime soon. They suggest that your passport be valid for at least six (6) more months after your departure date. This is crucial to know because it's getting harder and harder to secure an appointment date with the DFA at the soonest possible time.
Visa Application Form and 2×2 Photo
View Form
Application Form
The application form to enter Japan is available for download on the embassy website. Click on the "view form" to get you there.
You can opt to fill it out on your computer or manually by hand. Just make sure you print on A4 paper. They're quite strict about this.
While they do provide application forms at the branch, I think it's better to just do this at home to save on time when you get there. Besides, it says on a sign outside Reli Tours that you can't get a customer number unless you've completely filled out your form. You might want to remember that if you're planning on whipping past the queue of other applicants.
Most web searches yield results saying that you need to paste your photo on your form. But Reli Tours gladly did it for me, since I had my photo taken just before heading to their office. No need to let your OCD take over by finding the nearest National Bookstore. If you choose to do this yourself, make sure to put your name, date of birth and signature at the back first before pasting. (They require this in case the photo falls off your form.)
Oh, and don't staple it. Even the application form. Don't bother using staples on any of the documents either. They're just going to remove all of it.
Have a look at this sample application form. If you're staying at more than one hotel, some people suggest writing the address of the place you'll be staying in first. I managed to squeeze in the names and addresses of my Airbnb hosts for both Kyoto and Tokyo. I just indicated on the address field what house belonged to which host.
Birth Certificate
Okay, I ran into some minor problems here. As stated on the list of requirements, you must submit:
your baptismal certificate,
your high school or elementary records, and(Form 137)
if applicable or possible, a copy of your page on your school yearbook
In my experience, though, Option C  was totally optional.
If, like me, you carry a birth certificate that was registered late, you will need to submit the above supporting documents to further validate your birth records. Just for the record, my BC was registered four years after I was born.
As for high school records, I don't think I ever had my own copy of my Form 137 since my school forwarded those in a sealed envelope to the universities I applied to. On the other hand, my elementary school records are, sadly, nowhere to be found at home.
At first, I was confused about how I was to handle the baptismal certificate situation because,
I wasn't born a Catholic and therefore was never baptized as a baby;
I was baptized in my church at around 12 years old but as far as I remember the church never issued me a baptismal certificate (I'm Born Again, in case you're wondering)
ANYWAY. So I took it upon myself to make pristine scanned copies of my college Official Transcript of Records and Diploma in lieu of the HS/Elem Form 137 and the baptismal certificate, thinking these documents should suffice.
BIG MISTAKE.
They do not accept college transcript of records and/or diplomas.
Let me repeat that: College transcript of records and/or college diplomas are not accepted as supporting documents for your Japan visa application.
Oh, boy. Was I sad. I had everything they could possibly ever need or might want to see: my old passport, scanned copies of 2 Schengen visas, my UK student visa, my UK work visa, even a dingy 6-year-old Taiwan visa. RIGHT??? What else did I have to show to prove that I'm a totally legit citizen of the Philippines???

Apparently, Form 137 and a baptismal certificate.
When the nice lady at the agency handed me back those documents that I had so neatly organized (in vain, as it seemed), I asked her how it would be possible to give the requirements if I'm not Catholic.
She told me…
Ma'am, hingi na lang po kayo ng certificate of membership sa church ninyo tapos ipa-sign niyo nalang sa head pastor. Ganun din ginagawa nung mga tiga-INC and non-Catholics.

(Ma'am, you can request for a certificate of membership at your church and ask your senior pastor to sign it. That's what the members of other non-Catholic churches do.)
That was the end of it. She handed me the checklist with highlights on my pending requirements, including everything else. Nothing was left with the agency until all of the necessary documents were complete and ready. I was then asked to pay P500 at the counter as a consultation fee. BUT NOT TO WORRY! This amount was deductible from the total visa handling fee of P950.
And so you say… DUH TANYA WHY DIDN'T YOU THINK OF THAT??
Sorry na. It didn't occur to me, okay…? :<
So I moseyed along and went to my church to get my baptismal certificate and the good ol' Chinese school I attended for 12 years to get my Form 137. I had to return to Reli Tours another day.
To recap: there's no going around this if your birth certificate was registered late. You NEED to submit your Form 137 from your high school or elementary and your baptismal certificate signed by your senior pastor or the equivalent of that in your church. If, for any reason, you can't get a baptismal certificate, a certificate of membership is a recommended alternative.
I failed to ask what the option was for atheists or those who were born atheists. I'm sorry… :<
Marriage Certificate
This only applies to those who are married, of course. If you're single, no need to bother with this one.
Bank Certificate
Getting my bank certificate was a lot easier than I'd initially expected. I searched endlessly online about how long it would take for Metrobank to issue me a bank certificate (I know, I know. I could have just called right? But nevermind that.) I read somewhere that it would take a day and you'd have to come back for it the next banking day.
Someone also said that BDO and BPI both issue bank certificates in as little as 30 minutes. I also bank with BDO but a huge portion of my savings are kept in my Metrobank account, so I chose to get a certificate from the latter instead.
There was no queue at the Eastwood branch so I was attended to right away. I made a deposit first then asked the teller how soon I could get my bank certificate. He said I could get it right away if I didn't mind having yesterday's balance reflected on it. Meaning, the money I had just deposited won't be reflected on the certificate. I'd have to wait until tomorrow if I wanted that amount included in the final balance. I didn't mind and so I asked him to just proceed with the request. In less than 30 minutes, I was able to get my bank certificate. I'm guessing this has a lot do with having opened my account in this same branch?
Remember to address the certificate to the Japanese embassy as the bank will ask for it.
Embassy of Japan

2627 Roxas Boulevard, Pasay City, 1300
Tip: If you're getting a bank certificate with Metrobank, you should know that it contains details such as your account opening date, Average Daily Balance (ADB) over the past 6 months, and of course, your account balance. Mull over that before suddenly depositing a large amount of money into the account just for the sole purpose of "show money" for your visa application. They might see the sudden influx of funds as a red flag especially if there is a big discrepancy between your ADB and your account balance.
If this is a problem for you, perhaps bank certificates from other banking companies do not show such information. Always ask the bank first, especially if this is the reason for opening an account with them.
Remember : Bank certificates are not the same as statements. Don't send them a copy of your statements.
As for exactly how much the embassy requires you to have on your bank account for travel, they don't give you an exact figure. According to some travel blogs I've read, there were people who've had successful applications with 50k in their account for a 5-day trip. If you want to know how much money I presented for my 12-day vacation, I think it should suffice to say my funds were enough to cover multiple trips to Japan, therefore I won't disclose this information anymore.
If I may suggest, fire up Excel (or just take out a pen, paper and your calculator app – whatever works for you) and list the costs of everything you plan on doing. Let's say you're eyeing to have a one-week holiday in Japan. How much will it be for 6 nights at the hotel of your choice? What is your budget for food and transportation per diem? How much are the entrance fees, if any, to your places of interest? What are best and cheapest flights currently being offered? Are you going to book tours? List those down plus allowances.
Make sure the amount shown on your certificate is enough to cover all of your expenses. They will know, more or less, if you can afford your trip. Also because you will be submitting an itinerary. But more on that later.
Tip: Bookings and reservations are not required but they do help a lot.
Optional but encouraged: hotel bookings and return flight ticket confirmation
I included a copy of my return flight tickets and Airbnb confirmation receipts. I wanted to show them that, apart from having a place to stay in Japan, I had every intention of coming back home.
I'll be travelling with my best friend and a friend of ours and although we didn't apply together (BFF still has a valid multiple-entry visa), we did look for accommodations together.
We found two great apartments, one in Kyoto and one in Tokyo. Both were pretty much centrally located, near train stations, and had awesome reviews. Consequently, these hosts get booked up pretty fast. We decided we weren't going to pass up on the chance of booking them while we still could – visa or no visa.
As for the flights, sadly, there was no Piso sale being offered at that time. The next best deal was with Australian budget airline Jetstar Airways. So we booked those, too, before prices got any higher. It was a good deal – first flight in, last flight out.
Tip:
You can always book one of those hotels that offer free cancellations. Once you get your visa, you could cancel it and choose an accommodation that suits you or your budget better. But before making any final reservations, it's always best to map out a rough itinerary of your trip keeping in mind the flights and accommodations that are available.
Which city do you want to visit first? Where is your point of entry? How much would you be able to save from shinkansen fares to fly to Narita first then fly back home from Kansai if Tokyo were your first destination and Osaka your last? Or would you rather arrive and depart at the same airport? Do you want to keep your base in Tokyo and just take day trips from there? Before anything else, do your research.
Schedule of Stay in Japan
Another requirement is your Schedule of Stay, an itinerary indicating your day-to-day activities and the hotel where you intend to stay for each night. This doesn't have to be as absurdly detailed as :
11/20/17 – 9:00 am – wake up, have breakfast at hotel
I guess the point of this is to see what you plan to do during your trip and if you are able to afford the places you want to go to.
Don't write…
11/21/17 – arrive at *insert 5-STAR hotel name here*

11/22/17 – take shinkansen to Universal Studios Osaka

11/23/17 – take shinkansen to Tokyo Disney
…if you're planning to stay in Japan for 7 days and have a P35,000-balance on your bank certificate.
I don't think there's anything wrong with submitting a Kardashian-esque itinerary, as long as you have enough proof that you can absolutely afford it.
But just to be safe, keep it simple and include a lot of sightseeing spots with virtually zero entrance fees and places where you can do activities free of charge.
Warning: NEVER write anything about meeting up with anyone in Japan at any time in your itinerary unless you have intentions of applying for the "visiting friends and distant relatives" visa or "visiting relatives" visa. That was a mouthful, but you get it.
To have a look at a sample Schedule of Stay, click here.
View
Schedule of Stay Template
A template of the itinerary form is available for download on the Reli Tours website. Click on "view" to get you there. Fill it out on your computer and print on A4 size paper.
The ITR & Certificate of Employment
A brief preface: I'm essentially a freelancer. As a singer and actress (or, ugh, due to the nature of this article, I cringe at saying it out loud: "an entertainer"), I get my wages on a per-project basis.
As of this writing, my dad's entertainment company represents me and my mother is my official manager. So, yes, somehow I am entangled with this whole family business. However, I am not on the regular monthly payroll because I'm technically not an employee there.
Yes – they manage my career and negotiate with clients about my talent fees, yes – they accept bookings on my behalf. And as my managers, the pay I get from clients goes through them first. That's how it is with artists. Your managers are there to help make bookings for you so you get income. No booking, no income.
So when it came to the Certificate of Employment, I couldn't come up with one. However, if you are in a relatively long-term project at the moment, I believe you can ask your current client for this. On the other hand, if you're in between projects, don't worry. Judging the checklist of requirements, this seems to be an optional supporting document you can submit if you have no ITR to show.
These requirements are to show that you are perfectly able to sustain yourself in the Philippines – that you have responsibilities to return to in your home country after your travels in Japan. Therefore, there's absolutely no reason for you to look for a job there. As I am registered as self-employed, I submitted my 1701.
If you can neither show an ITR or a certificate of employment, you can submit an explanation letter stating why you can't present these documents. In addition to your bank certificate, it would help to include any property and investment certificates you might have.
If this still doesn't work, you can go a different route and have a guarantor fund your trip. Note that this requires additional documents, especially on your guarantor's part. Once you get the approval of your visa out of the way, you can always go back to shouldering all the expenses of your trip as planned.
To recap: If present circumstances make it impossible for you to get an ITR and its supporting documents, and the agency declines to process your application without these, you can go a different route and apply with a guarantor to shoulder part or all of your travel expenses.
Just FYI, for this type of visa, your guarantor must be living in the Philippines. The additional requirements from the guarantor are the following:
Guarantee letter – see template here.
Proof of relationship between applicant and guarantor (birth certificates, company ID's from the same company if you work together, marriage certificate, etc.)
Your guarantor's bank certificate
Your guarantor's latest ITR
4. Go to your chosen travel agency with all the necessary documents. Make sure everything is complete.
Luckily, the two times I went to Reli Tours, I didn't have to wait too long – 15-2omins max. I was there in the afternoon, both on weekdays. The cut-off time for visa applications is at 6:00pm, so it's best to go there earlier. If it's possible for you to go on a weekday, then go. I'm sure the weekend queue will be insane.
5. Wait for the agency's call / text notifying you that your passport is ready for pick-up.
Unless, of course, you opted to have it shipped back to you. Again, don't pester them with questions about the status of your application. They will never answer you, either in person or over the phone, because they wouldn't know what to answer you in the first place.
Visa Processing Time
I went to Reli Tours with my complete documents on a Tuesday and got a text from them on a Friday morning that same week. They tell you it would take 5-7 business days for processing, but it's usually much sooner than that. My friend who applied just 2 days ahead of me got her visa in 3 days.
When you get to the agency, it should take only about 5 to 10 minutes (tops) since the queue for claiming is separate for the line for applications.
Don't forget to bring the receipt as this will serve as your claim stub. You may ask a representative to pick up your passport for you provided that you give them an authorization letter and a photocopy of your valid ID. Pick up times are Mondays to Sundays from 10am to 7pm at their Megamall branch.
Getting a tourist visa in Japan is not as daunting as it seems. You just have to be honest and realistic. With that, I wish you all the best in your application. Let me know if this article has helped you or if you have any questions by leaving a comment below. You can also leave me a message and I'll help you the best way I can.
To sushi and sake,

Save
Save
Save
Save
Save
Save
Save
Save
Save
Save
Save
Save
Save
Save
Save
Save
Save
Save
Save
Save
Save
Save
Save
Save
Save
Save
Save
Save