Whether you're travelling alone or with friends & family, Airbnb is always a great and economical choice for accommodations. If you're still thinking "stranger danger" because you've never set foot in one, allow me to enlighten you. Continue reading my first timer's guide to Airbnb and you'll find some tips and tricks that will help you find your perfect holiday home.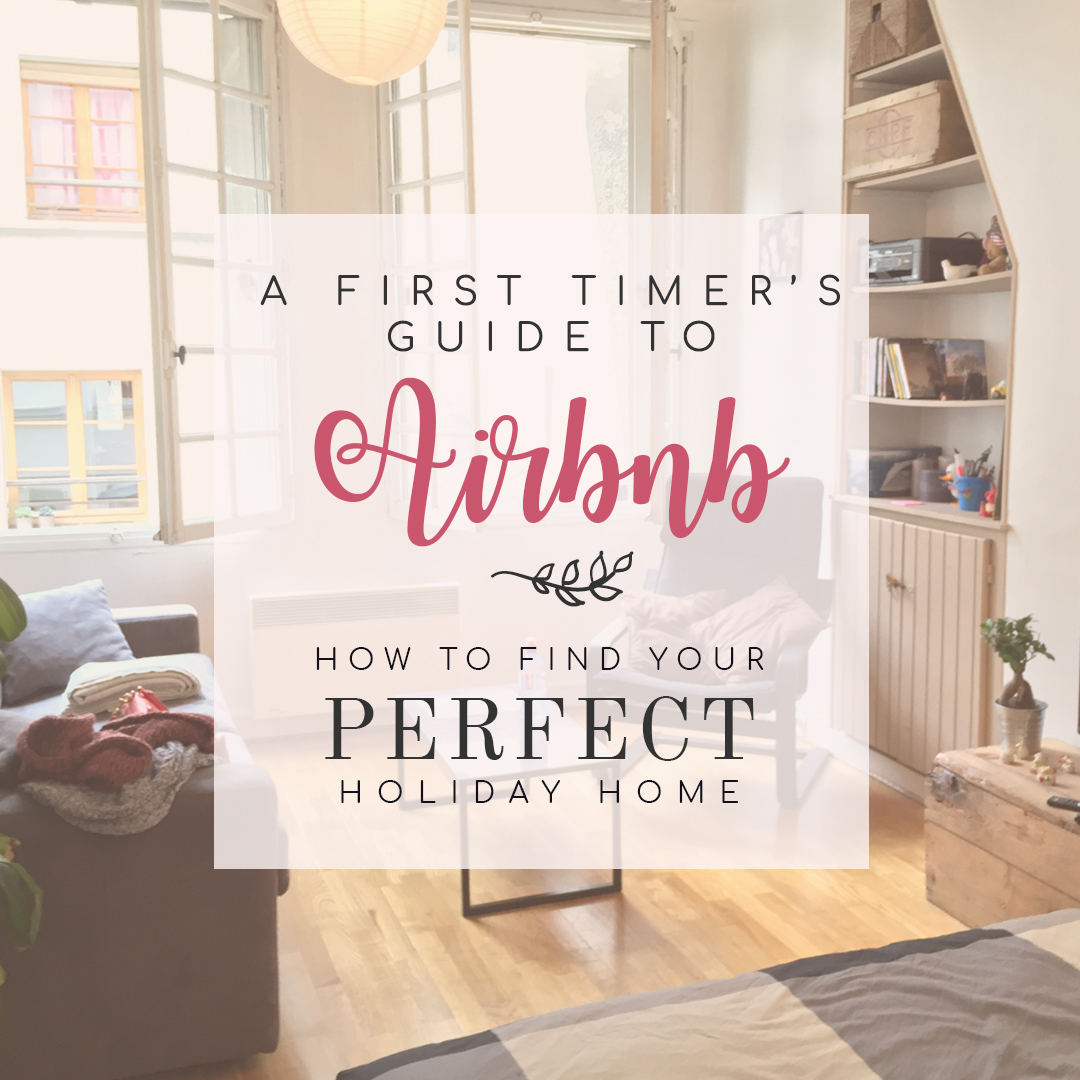 My first booking
The first time I tried out Airbnb was also the first time ever I travelled alone. You can just imagine how daunting and nerve-wracking that was. Tiny girl, anxious and excited at the same time… alone and about to make her way outside UK Borders.
It was my first year in the UK and fall had just set in. I took a weekend holiday off from work. I wanted to go somewhere outside the United Kingdom and immediately, Paris came to mind. It was a great starter city for a noob solo traveller like me. I didn't have to book plane tickets because I could just hop on the Eurostar and be in the French capital in less than 2 hours from King's Cross Station in London.
With that out of the way, I only had to think about my accommodations. A decent Paris hotel isn't exactly cheap, plus I wanted to explore the many options out there. Staying at a hostel was out of the question for a sissy little girl travelling alone. My then roommate went to Paris for holiday a few months before I did so I asked her where she stayed. She recommended Airbnb.
I had a look at the website and was amazed at how many hosts were out there. There was a plethora of homes and apartments to choose from in Paris alone. Having only stayed at hotels before, I put on my big girl pants and searched for my perfect home in Paris.
Have a look for yourself. Go to the Airbnb website and type in the city you're travelling to, the dates and how many are travelling with you. From there, go and explore your options.
Booking your accommodations with Airbnb is just the first step for traveling on a budget.

Read my

Top 10 Travel Hacks

to help you plan your dream vacation while still staying within your budget!
CHOOSING YOUR PERFECT AIRBNB RENTAL – first timer's guide to Airbnb
1 – FEEDBACK FIRST.
No matter how pretty the photos are or how tempting the rental rate is, always, ALWAYS read the reviews section of the listing. Read as much as you can. Read until the end, if you have the patience.
These real, subjective reviews left by previous renters contain indispensable information. Some properties look a lot bigger than they really do – much thanks to wide-angle lens. As you go from one feedback to another, you'll find out what other issues there are, if any.
2 – KNOW THE EXACT OR APPROXIMATE LOCATION.
As a general rule, hosts never disclose the exact address of their apartment. This information will only be available once your booking is confirmed.
At the bottom of the listing, you'll see an approximate location (i.e. which neighborhood or district it's in). The reviews give a lot of hints and information as to where the apartment really is. Look out for comments like, "Great location. 10 minute walk to Station X. Easy to reach city center and other areas from there".
Alternatively, you can also message the host and ask how near or far the next station is. They'd be more than happy to answer you. Given that information, find a map of the city's transportation system (if available), and see how accessible the places you plan to visit are.
Either in the reviews section or the description of the listing, you'll also find any establishments close to the property. Keep an eye out for that. You might have a 7/11 next door, or a bank across the street, or Starbucks and McDonald's just around the corner.
Remember, you can't simply dial 0 and ask for room service. Having these things in the area would be good to know.
3 – TAKE ADVANTAGE OF THE FILTERS
Airbnb's filtering system is a life-saver when you don't want to waste time going through hundreds of rentals that are just way out of your budget. Here are some things to ask yourself when you want to narrow down your search:
What is your budget? You can filter out homes that are out of your budget by toggling the slider bars in the filter and adjusting it to your ideal price range.
Are you okay with renting a private room in a shared home? Or would you rather have the entire place to yourself? Or are you after the bare minimum and sharing a room is not a problem for you?
How many beds do you need? If you're travelling with your BFF, would it be more comfortable to have 2 separate beds? Ask yourself this because not all apartments than can accommodate 2 pax or more can provide more than 1 bed. In cases like this, you'll have to share a double or queen. See the sleeping arrangements on the listing. If this information is unavailable, message the host about possible sleeping arrangements.
Are there any specific facilities you're looking for like a gym? Are you travelling with children or seniors that might need to use the elevator? Would you be needing a place with WiFi?
4 – IF IT'S YOUR FIRST TIME, I RECOMMEND BOOKING WITH A SUPERHOST.
Superhosts are hosts that have gained a good rep in Airbnb. They stand out because of their outstanding hospitality, high response rate, and commitment in giving you the most pleasant stay. While I can't guarantee that nothing will go wrong during your stay, it should be comforting to know that you are booked with highly experienced hosts who can help you if anything does go wrong. To learn more about Superhosts, click here.
5 – DON'T ALWAYS EXPECT 5-STAR AMENITIES.
Most of the time, basic toiletries like shampoo, soap, and a limited number of towels are supplied by the host. Providing fresh linens is the standard and they change them after each guest – just like a regular hotel.
I once had a pretty unpleasant experience with linens and pillowcases. It appeared as if they used the least scented laundry detergent (I guess to avoid triggering any allergies the guest might have). And while they were most certainly washed and dried thoroughly, well… the human scent still lingered. The same applied to the towels provided.
BUT! Don't let this deter you! If you're sensitive to smell like me (I really am – seriously – sometimes to the point that it's ridiculous) then bring your own towel, a travel blanket, and a big handkerchief to lay over the pillowcase.
Confirm if the apartment has everything you need like a hair dryer, a safety deposit box, a microwave, a kettle, and so on. Knowing these things beforehand will help you decide what to include in your packing list later on.
6 – SAVE LOADS MORE AND TAKE ADVANTAGE OF HAVING ACCESS TO A KITCHEN AND/OR A WASHING MACHINE
One of the things I love about renting instead of booking a standard hotel is that it saves me a lot from dining out.
On one night during my trip to Edinburgh, I didn't feel like eating out that night. Before heading home, I passed by Sainsbury's Local (one of the many convenience store companies in the UK, think Rustan's Marketplace but the size of a big 7/11), and got the basic ingredients to make a decent pasta dinner.
Because the Airbnb apartment had a small but fully-equiped kitchen, I was able to eat dinner in peace. I didn't have to resort to instant food or spending for a more expensive meal at a restaurant.
A lot of apartments come equipped with a washing machine inside the unit. The rental I stayed at in Paris came with one and that allowed me to pack light. While some apartments provide detergent, some do not. Eitherway, this is a very economical option compared to the laundry services that hotels offer.
7 – CAN YOU SELF CHECK-IN/CHECK-OUT?
Based on my experience, self check-in's were done by entering a passcode the host has given you. You can get in to the apartment by punching a code on an automatic lock system or get the keys from a passcode-protected key box inside the apartment building.
I arrived in Paris before lunchtime and I loved the fact that I could settle in on my own without having to wait for the usual check-in time of 2pm. The host simply told me where he stashed the keys and I was able to rest a bit as soon as I arrived.
As for self check-outs, one time, I was requested to leave the keys inside the apartment, locking the door behind me. The other time, I had to drop the keys in the apartment's mail box. The latter is usually done if you can't lock the apartment door from the outside without a key.
I've also experienced assisted check-in and check-out. The host's secretary was the one who attended to me. We met up at the nearest bus stop and she walked me to the apartment.
Once you know your estimated time of arrival and what time you'll be leaving, confirm with the host what their check-in and check-out procedures and times are.
Of course, different hosts have different rules on this. Host X might allow for a later check-out time permitted there are no guests arriving immediately after you. They still need an ample amount of time to clean the apartment in-between guests.
Always leave the apartment in great condition. No, you don't necessarily need to do the laundry yourself. But at least keep the place tidy as how you found it. Remember, hosts are also given the chance to leave feedback for their guests. All reviews are public.
♥ Travel rent-free anywhere in the world!

Click here to learn more

about saving on accommodation costs by becoming a housesitter. Love pets? You can become a petsitter, too!
8 – CREATE WISH LISTS AND USE THE HEART BUTTON.
Create wishlists like: Cheap Tokyo Apartments 2017, Eurotrip 2019 – Amsterdam, Family Vacation Tagaytay 2018.
These are especially helpful even if you're just browsing for possible accommodations for a trip that won't happen until much, much later.
Just use the heart button to add a rental to your chosen list. You can always look back at the wishlists you've created and see which apartments you liked. When the time comes to book, you would've had narrowed your choices down, saving your lots of time and effort of going through all the listings again.
9 – MAKE SURE THAT ALL MONETARY TRANSACTIONS ARE DONE IN AIRBNB
For the safety of both guest and host, make all payments through Airbnb.
Never entertain thoughts about paying the host directly to save on service fees. If you arrive at the apartment and see that it's occupied by other guests, there's basically nothing you can do. You can't file any disputes because Airbnb was in no way part of the transaction. Similarly, a host can't file claims for a security deposit if ever there were damages done to their property.
10 – ENJOY THE LOCAL VIBE
Booking an Airbnb apartment gives you a taste of life as a local. For private rooms and shared apartments, you even get the chance to meet other travellers like yourself.
I've experienced having the entire place to myself and staying at a private room with shared communal spaces. I don't think I'll ever have the audacity to stay in a shared room, though, to be honest. That one time I booked a private room, I shared the apartment with the host herself.
Airbnb gives its users a sense of community that top luxury hotels can never offer.
Sign up
Sign up for an Airbnb account today!
Ready to find the perfect Airbnb home for your trip?
Sign up today using my referral link and get $34 worth travel credit to use on your reservation!
I hope this guide has encouraged you to book with Airbnb. Trust me when I say you'll save so much if you do. However, if you still find yourself on the edge about booking with a host, leave a comment below or message me and I will do my very best to help.
To infinity and beyond,

---
Images in this post are my own unless stated otherwise in the caption. Credit is given where credit is due. Free photos are available for use thanks to the generous contributing photographers on Unsplash.
I am in no way affiliated with Airbnb, Inc. All views and opinions written in this article are my own unless stated otherwise.
This is not a sponsored post. I did not get paid, either in cash or travel credit, to write this.
Save
Save
Save
Save
Save
Save
Save
Save
Save
Save
Save
Save
Save
Save
Save